[tribe_events view="list"]
Additional Workshops I Have Taught or Hosted
Yoga and Tea on the Farm
Taught by Jenna Hull and Christine Cassella
Spend a relaxing morning on the farm enjoying a gentle, Earthy yoga practice surrounded by nature. We'll spend a little over an hour doing yoga and then refresh ourselves with some herbal tea featuring (changes each month). We'll briefly discuss how and why (this month's herb) pairs well with yoga, the health and wellness benefits of (the month's herb), and everyone will leave with a sample to make their own at home.
Herbal First-Aid for Outdoor Adventures
Let's take a plant walk to learn some garden and lawn plants that are tremendous allies for common first-aid concerns that arise after spending more time outdoors. We'll discuss what plants you want to know for bee stings, mosquito bites, cuts/scrapes, summer colds, and poison ivy. After our walk, we'll talk about some of the best herbal remedies to keep in your summer first-aid kit and you'll learn how to make a few.
Kitchen Cabinet Remedies: Exploring Food as Medicine.
You may have heard the popular adage "let thy food be thy medicine", but what does that really mean? In this class we will take a deeper look at some of the basic foods and spices you're likely to have in your kitchen and how they can be used for medicinal purposes. From oregano and garlic to sage and cinnamon (and even chocolate!), come learn how common spices can be incorporated into food or made into unique medicinal preparations like teas, infused honeys, compresses, and more. Demonstrations will be provided and there will even be some samples!
Yoni Steams for Fertility, Postpartum Healing, and Regular Self-Care
Yoni (vaginal) steams are an ancient Mayan method for warming and cleansing the female reproductive organs. They're often used to help boost a woman's fertility, assist in the changes that occur postpartum, and they can be incorporated into a regular self-care routine. Come learn why you might want to incorporate this practice into your life and how to do your own yoni steam. We'll also go through a guided meditation that you can use while doing your steam to help you tap into the power of your reproductive organs. Participants will leave with a steam to take home and try in the privacy of their own home.
Herbal Support for a Healthy Transition to Fall
Let's enjoy an evening walk looking for medicinal and edible plants that are still available for harvesting in early October. After our educational stroll, we'll come together to discuss some essential herbal remedies to have on hand as we transition into fall. We'll talk about making an immune-boosting tincture, the importance of adaptogenic herbs, and some herbal remedies for coughs and colds. You'll leave with recipes for each remedy and we'll make one together that you can take home. Come enjoy nature and share what natural remedies you rely on during the seasonal transition while learning some new ones, too!
Herbal Support for the Childbearing Year
Herbal remedies have been used for centuries to support women during their childbearing year. Come discuss ways that herbs have historically been used to support fertility, pregnancy, and the first days postpartum. We'll discuss nutritive herbs that can help keep energy levels high and your mood positive, while we also touch on herbal remedies for common concerns such as morning sickness, low iron levels, and boosting milk supply. We will provide resources where you can purchase or find supplies to make your own home remedies.
Dandelion Day
Pesky weed or medicinal superfood? The dandelion is often considered a noxious weed to be ripped out of the lawn, but it's actually an extremely beneficial plant medicine. Join us for an afternoon of dandelion fun. We'll gather dandelion flowers, leaves, and roots and learn how each can best be used for food and medicine. Leave with a new appreciation of dandelion and ways that this plant can be used to keep you and your family healthy!
5 Herbs Every Woman Needs to Know
Join us as we gather to discuss the important connection between women and plants. We will be talking about five of the top herbs that every woman should be familiar with to maintain a life of health and vitality during motherhood and beyond. These 5 herbs are easily and safely incorporated into your life for greater energy, wellness, and balance. Come taste and experience the herbs while sharing in sisterhood and growing in herbal knowledge.
Make Your Own Herbal First Aid Kit
Natural remedies can work wonders for scrapes, cuts, bites, bruises and burns. Work together, adult and child, to make your own Natural First Aid Kit. Christine Cassella shows you which plants can be used to be well and stay well. **This class was designed to be taught to parents and children.
Herbal Remedy Making: Using Plants from Your Own Backyard to Create a Healthy and Vibrant Life
Ever wonder how herbs can benefit your health and well-being but don't know how to begin to incorporate them into your life? For beginners and herbal enthusiasts, we will cover some basic uses of common herbs growing in your yard and garden, different herbal preparations, and how to use herbs safely. Learn some of the history of herbal medicine and what roles herbs play in permaculture gardening, and engage your intuition and senses. Come learn how herbal medicine can be your guide in preventing and healing disease and how they can do the same in your garden. Come with curiosity and questions.
Topics include: Using herbs medicinally; Starting your own herbal apothecary; Herbal safety, Teas, infusions, decoctions; How to incorporate herbal food remedies into your meals; Medicinal plant garden tour; Herbal Medicine making: Oils, salves, tinctures and more!
Herbs and the Moon: Using Herbs to Support the Menstrual Cycle
Herbs can be used through all stages of the menstrual cycle to promote health, vitality, and joy. By embracing the gifts of the plant world, we can begin to normalize our menstrual cycle to promote fertility, decrease PMS, cramps, headaches, and other common concerns associated with menstruation. Women at all stages of their menstrual journey are encouraged to attend. We will drink teas, explore various herbal remedies, and learn about the relationship between our menstrual cycle and the moon. You will leave with a new appreciation of your body and Moon Cycle!
Healing Herbs for a Peaceful Postpartum
The baby's here! Now for the hard part – remembering to take care of yourself! Let's discuss ways to use safe, effective herbal remedies to help with some common postpartum concerns. We'll talk about herbs to nourish your body and mind while we blend some remedies together. We'll discuss common postpartum concerns and herbal remedies to support mood changes, vaginal tears, hemorrhoids, milk production, and more. Participants will leave with a sample to take home and recipes of the remedies discussed.
Herbal Medicine and Healing for Women
Women have a long history of using herbs to improve health and vitality. In this session, experience a short discussion of history of women and herbs and learn the principles of the Wise Woman Tradition. Learn about some of the best herbs for women's health. Taste and sample herbs that benefit women of all ages and stages as well as learn the benefits of nourishing herbal infusions. We'll also blend a nourishing tea to take home to help calm and balance the body and mind. Come learn to embrace the healing gifts of the plant world!
The Tipsy Herbalist
Taught by Aniko Zala of Wild Origins
People have been infusing alcohol with plants for flavor and medicine for thousands of years.  In this class we will taste several types of infused alcohols and bitters while discussing the benefits and methods of making this type of medicine.
Herbal First-Aid Intensive
Taught by Leah Wolfe of The Trillium Center
Increase your self-reliance skills by integrating wild plants and kitchen ingredients into basic first aid remedies. Learn how to provide minor first aid and wellness care at home or outdoors and quickly identify emergencies. We will focus on common and easy-to-grow plants for herbal first aid. This is a hands-on class. No first aid experience required.
This preventive approach to natural first aid has three core values: the human mind and body is a self-healing organism, early detection of illnesses, and careful treatment of minor wounds to prevent infections. Find out why you only need to know five plants to enhance your first aid skills. Learn a quick assessment to determine when to call for help. Practice using plant remedies and learn how to make a few versatile herbal products to have in your medicine cabinet.
Plant Consciousness and Healing
Taught by Lynn Abbey Zukowski of Blue Lake Botanicals
The class will cover some of the exploding and exciting new scientific research on plant consciousness. Then we'll talk about how these green beings have interacted with people since the beginning and how we can still connect with them energetically and spiritually today, and how this can impact disease. There will be a discussion of plant personalities and an experiential "green breath" exercise.
Beyond Chamomile: Herbs for Stress, Anxiety, and Sleep
Taught by Aniko Zala of Wild Origins
There are so many gentle but powerful herbs that can bring balance to your nervous system and help calm your mind when you experience anxiety or have trouble falling asleep.  In this class we will discuss and sample herbs that can be used to manage anxiety, stress, and insomnia. You will leave with an herbal dream balm that you can apply to your temples to help promote sleep.
Herbs and Essential Oils for Pregnancy and Postpartum
Christine Cassella and Jennifer Langsdale
@Awaken Yoga
This workshop is appropriate for anyone looking to learn, expecting mothers, new mothers, yoga teachers, midwives and doulas! Immerse yourself in an evening of discovery of the benefits, safe use and practice of herbs and essential oils for motherhood. This workshop will be a mixture of hands-on and lecture.
Dreams of the Medicinal Orchard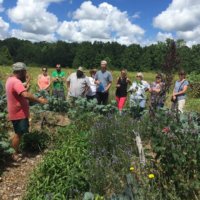 What does our own personal garden of eden look like? Can we grow the diversity of medicinal herbs we need for our practices in the microspace of a backyard, or a large farm? How can we integrate the trees and shrub medicine we want to grow locally with the other herbs in our gardens? We hope to answer these questions with a technique called forest gardening. In designing a forest garden we can think of the plants occurring in layers as they do in the forest. As gardener herbalists we find ourselves wanting to grow herbs and mushrooms that may fit into all the layers of the forest. Forest gardening gives us tools for the ecological cultivation of a diversity of 'wild quality' herbs with the benefit of increased disease and pest resistance, soil creation, improved habitat for many species and reduced water and fertility needs over time.
Stay after to help install a medicinal orchard if you'd like!
Taught by John Wright of Red Beet Row.
Ticks & Herbs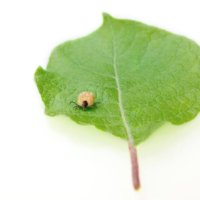 Ticks have struck fear into many, making them wary of wandering in the woods or the fields. Understanding ticks helps you avoid them and take some of the fear out of the wilderness. This presentation includes historical information, a public health perspective, and herbal approaches to ticks and tick-borne illnesses. Learn public health and first aid tips to help you prevent infection and inflammation from tick bites.
Topics covered include:
Is that a Tick?
Types of Tick-Borne Infections
History
Signs and Symptoms
When to Seek Medical Care
Prevention
Understanding Ticks
What to Wear
How to Check
First Aid and Home Care for Tick Bites
What NOT to Do
How to Remove
Acute Inflammation
Chronic Inflammation
The instructor for this class is Leah Wolfe (Trillium Center) who learned about ticks while living at an infested farm in Wisconsin. She is trained as a wilderness first responder, street medic, public health educator, and herbalist.
Top Herbs for Families to Know and Grow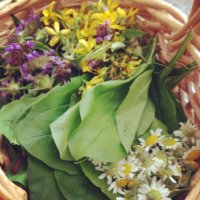 Join Christine Cassella of Light Footsteps, a mother, herbalist, and doula to learn about the top herbs for keeping children and families well in all seasons. We'll learn about safe and effective herbs that can easily be grown or found in your backyard, the best ways to prepare them, and how they are used. The workshop will include a handout with recipes and each guest will make a glycerite to take home.
Reeds & Roots Skillshare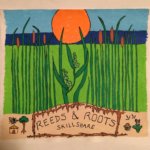 Christine will be teaching two workshops at the 1st annual Reeds & Roots Earthskills Gathering taking place August 18-19 at Camp Whitewood in Windsor, OH. She will be teaching "DIY Herbal Oils & Salves" and "Top Herbs for Families to Know and Grow". Reeds & Roots is organized by a dedicated group of volunteers working to build community ties while promoting a sustainable lifestyle and a strengthened connection with our natural environment. Learn about all the great workshops and register at http://www.reedsandroots.org.
Lake Erie Mushrooms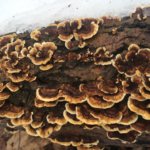 Leah Wolfe (Trillium Center) will be offering a class on seven common mushrooms in our area. Leah has been using these mushrooms for many years as food and medicine. Learn the basic identification skills, ethics of gathering, medicinal uses, energetics, and methods of making teas, broths, and tinctures. Mushrooms include turkey tails, chanterelles, varnished conk (aka reishi), chicken of the woods, artist's conk, hen of the woods, and boletes. For those who will never pick wild mushrooms, she will offer tips on purchasing growing kits or mushroom powders and other preparations.
Mushrooms offer many nourishing and healing qualities. They are known to make vitamin D even after they've been picked. They are high in trace minerals and polysaccharides. Learn more about what they do, how they might work, and what to do with them.
This class is taught by herbalist and forager Leah Wolfe. Leah has been studying herbs and philosophies around healing for 25 years and teaching for more than 10 years. She completed a masters degree in public health in 2009. She has been teaching in NE Ohio at the Trillium Center, an educational project she co-founded) since 2013.
Medicinal & Edible Plant & Mushroom Walk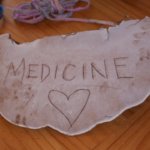 Come to Light Footsteps for an afternoon plant walk! Learn about the medicinal and edible plants and mushrooms that are available in late Summer. We will discuss traditional and contemporary uses of the plants in a fun and engaging way.
This walk will be led by guest herbalist Leah Wolfe of the Trillium Center
Message me or email theselightfootsteps@gmail.com to register.
This walk is INCLUDED in the cost for those attending the Mushroom Workshop that precedes this walk.